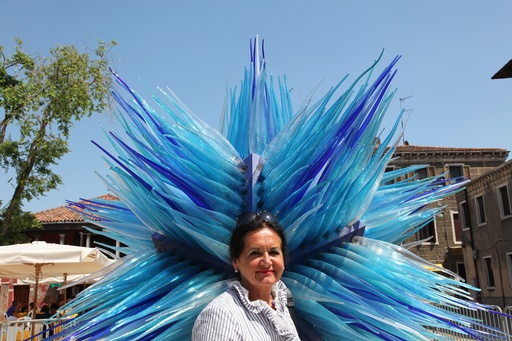 Daeter, Elvira, Dutch fulltime painter/sculptor, lives and works in Middelburg, The Netherlands, born in Eindhoven.
While studying interior design and history of art, I was touched by the compositions of shapes, colours, lines and light.
My great inspirators were (and are) Mondriaan, Malevich and Lyssitsky.
From 2004 I was was schooled in painting and sculpting at 'Kunsteducatie' in Middelburg.
My paintings are characterized by a playful intuitive handling of the geometric imagery and a penchant for experimentation.
The meaning of art is in a certain way to communicate. An artist works best based on what his predecessors have achieved. What's been accomplished, is not a problem anymore. The abstract artist, the path of liberation from the natural shapes and colors not having to go because this road is already laid.
This art is a direct expression of the artist and his unique personality. Art says something about the times in which we live and consists of at least three categories: the context in which the work was made, the form, content.
Works included Elvira Daeter shown at Galerie De Veersche Poort, Grote Sternstraat 12, 4332 DS Middelburg (The Netherlands) and various exhibitions.
Goals
The source of my power is the visual experience and emotional range, and human experiences that have shaped me and I have to stick together. The spirit of the artist, the viewer who deliberately arouses emotion and moral perception. Aesthetic emotion and purity in art is unique and indefinable, it can not be explained by other means (as written). It can only be felt by the viewer or recognized.
It is a constant interplay between surfaces, lines, shapes, forms rest, contrasts, movement and the available spaces that also at least as important as the forms themselves in a composition, as well as against spaced bright colors.
Daeter, Elvira The Netherlands Dutch painter/sculptor living in Middelburg, The Netherlands While studying interior design i was touched by the composition of shapes, colours, lines and light. During my study of painting and study of sculpturing i was interessed in releasing the visible truth and to work with intuition as a creative force while creating compositions and stone sculptures. The paintings are characterized by a playful, intuitive and experimental handling of different forms of art. Continuous exposition at gallery 'De Veersche Poort' in Grote Sternstraat 12, Middelburg, the Netherlands. Elvira painted and layered constructivist Geometric assemblages in the language of her native DeStijl and Madi. Each Geometric construct is carefully whittled, built and painted out of a smooth wood composite, then superimposed in layers atop a shaped substrate. Her chromatic choises include fiery reds, ultramarine blues, and vivid yellows, punctuated by deep blacks, historically aligned with neoplasticism.
In 2015, Elvira won the first price at the Biennale 2015 at the Geometric Madi Museum in Dallas U.S.A.